How to register a patent in South Africa
To register a patent in South Africa is surprisingly simple, quick and affordable. That's why S&Z files more than 500 South African patents per month.
South African PCT National Phase Patent Application
South African national phase patent applications may be filed online through GlobalIPCo for only US$399. Alternatively, instruct us to file, prosecute South African national phase patent applications to grant (inclusive of courier of registration certificate) for only US$585.
New Invention – Filing your First Patent Application
But, before contacting a patent attorney, we suggest that you conduct a patent search to identify the features of your invention that have not previously been disclosed anywhere in the world. Our charge for conducting a professional patent search is R9,950.
After identifying the new, patentable features of your invention, contact us to discuss your idea. We can either meet in person at our Oaklands office. Else, as with our many clients in Cape Town, Port Elizabeth and Durban, we could discuss your invention via Skype or over the phone.
For a fixed fee of R19,950 (exclusive of VAT), we will prepare and send you a draft provisional patent specification, drawings (using your 3D CAD model) and patent forms. When you have returned the signed form P3 and approved the patent application, your provisional patent will be filed at the South African patent office. The process generally takes two weeks.
An alternative option is to file your own patent for only $199 using the GlobalIPCo online filing system and our Patent Template. This will give you a Patent Pending Number within one business day.
A provisional patent application is effective worldwide.
A day following filing, you will receive a stamped patent application form. Now, go out and start the next phase of the process – speak to people, get advice about manufacturing, design your product, conduct market research, approach potential funders, make a few sales. Just bear in mind that you have 12 months to file a complete or international patent application. But, we will send you reminders as this deadline approaches.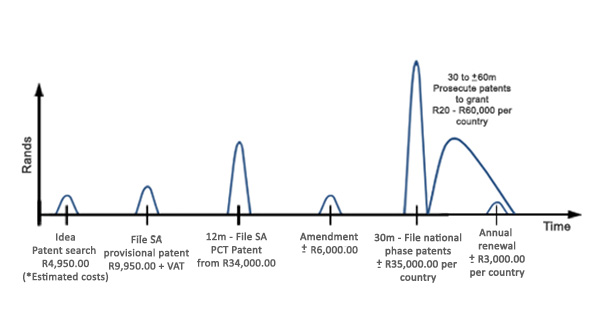 See our article explaining patents.