How to register a patent in South Africa
To register a patent in South Africa is surprisingly simple, quick and affordable. That's why S&Z files more than 500 South African patents per month.
South African PCT National Phase Patent Application
South African national phase patent applications may be filed online through GlobalIPCo for only US$399. Alternatively, instruct us to file, prosecute South African national phase patent applications to grant (inclusive of courier of registration certificate) for only US$585.
New Invention – Filing your First Patent Application
But, before contacting a patent attorney, we suggest that you conduct a patent search to identify the features of your invention that have not previously been disclosed anywhere in the world.
After identifying the new, patentable features of your invention, file a South African provisional patent online for only $199 through GlobalIPCo or $99 through Iptica. Use our Patent Template and provisional patent filing guide. This will give you a Patent Pending Number within one business day.
A provisional patent application is effective worldwide.
A day following filing, you will receive a stamped patent application form. Now, go out and start the next phase of the process. Just bear in mind that you have 12 months to file a complete or international patent application.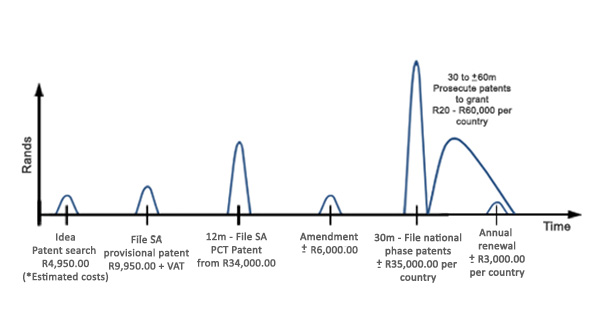 See our article explaining patents.