SA national phase patent entry
Français – Deutsch – Italiano – Português – русский – Español – 日本の – 中国的 – Hebrew
National phase patent process
South Africa (ZA) is the simplest and least expensive country in which to extend international patent applications (PCT). It is the preferred "gateway into Africa", and the absence of any examination process ensures that your ZA national phase patent will be granted within the year at a fixed cost.
See our comprehensive South African national phase patent manual.
Electronic filing option: GlobalIPCo's Online Filing for $399 (further discounted pricing available to patent firms). S&Z / GlobalIPCo now file +500 South African patents per month, representing about 50% of all new South African patents filed.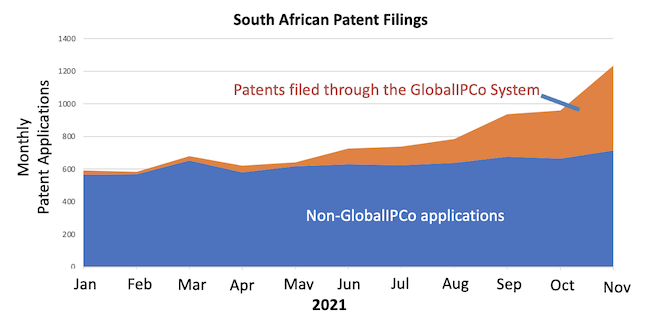 Instruct us to file your ZA national phase patent by emailing your WO/PCT patent number to us (Convention patent applications may require additional documents). We will send you completed forms P3, P26, a Deed of Assignment and Power of Attorney. These forms must be signed and returned to us.
Fees
Other firms charge substantially more to file South African national phase patents:
| | Firm A | Firm B | Firm C | Firm D | Firm E | Firm F | Firm G |
| --- | --- | --- | --- | --- | --- | --- | --- |
| Filing | $2,050 | $1,320 | $1,000 | $1,150 | $1,300 | $1,850 | $1,390 |
| Amendment | est. $500 | est. $530 | $320 per hour | not provided | est. $1,400 | est. $1,000 | est. $625 |
But, we have automated the process. Our "all-inclusive" fee to:
prepare and file a SA national phase patent (incl. official fees);
prosecute the patent to grant;
arrange publication of acceptance (incl. official fees); and
courier the patent registration certificate to you,
is only US$585.
Our fee is fixed. Irrespective of the length of the specification, number of claims or priorities it will not change. There are no hidden costs.
Alternatively, instruct filing of a South African national phase patent online via GlobalIPCo for only $399.
Ancillary services
Amendment:
Amendments can be made both before and after grant of a patent. However, following grant, amendments cannot have the affect of broadening the scope of the claims.
Once foreign patents have proceeded to grant, we suggest amending the claims of the South African patent to align them with examined, corresponding foreign patent claims. However, you would typically only consider making such amendments 2 to 3 years after filing the South African patent.
Our fixed fee for preparing, lodging and advertising an amendment (incl. official fees):
before grant is US$250
after grant is US$300
Renewals:
We suggest that you pay renewals for all 20 years immediately following grant. Alternatively, we will include your patent on our patent renewal system.