How to register a trademark
Steps to apply for a trademark:
Register with GlobalIPCo's online South African trademark filing system.
Fill in the applicant details.
Enter your WORD mark or upload your LOGO.
Select your classes (i.e. goods / services the trademark must cover).
Sign forms electronically.
Pay US$199.
See more: How to apply for a SA trademark
The GlobalIPCo system completes the forms and automatically files your South African trademark application with the South African Trademarks Office (CIPC).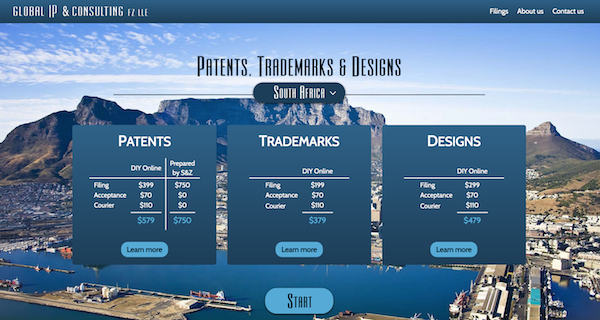 The official South African trademark application filing receipt together with your trademark application number will be emailed to you within one business day of payment.
You can start using your trademark immediately, despite the trademark taking about 2 years to be registered by CIPC.
Registration of your South African trademark
Your should receive an examination report within 9 months. If successful, your application should be accepted within 15‐20 months from filing. After instructing GlobalIPCo to publish your South African trademark application, your trademark lies open for "opposition" for 3 months. If not opposed, your trademark will be accepted and a scanned copy of the South African trademark registration certificate will be emailed to you.
Alternatively, use TM Direct
An alternative online trademark filing system is operated by S&Z Trademark Attorneys. This system is particularly suited to South African general lawyers who wish to extend their legal services to include trademarks. See more by visiting TM Direct.