Patent South Africa – Online
File your patent in South Africa online using GlobalIPCo:
South African Patents, Trademarks and Designs
The GlobalIPCo online system also files South African Trademarks and Designs.
South African Patent Law Firm
All GlobalIPCo patents, trademarks and designs are filed through, and prosecuted to grant by S&Z Patent Attorneys.
The online application system includes a "review" option, whereby the application is quarantined until the inputs are checked and confirmed by a South African patent attorney.
Alternatives to filing South African Patents Online
Instead of completing the online form, applicants may alternatively:
Instruct S&Z directly to file a South African patent application; or
Use the GlobalIPCo system to send the PCT patent number, in which case a South African patent attorney will complete the application.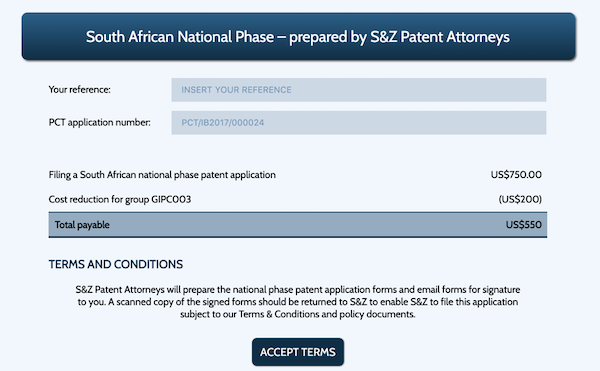 South African Patent Process
South African patents may be filed by 34 months of the earliest priority date, and scanned copies of signed forms are accepted. The cost is also unaffected by the number of priorities, claims or specification pages. Furthermore, where the priority document (whether in English or another language) has been lodged with WIPO, no further copy of the priority document (or translation thereof) is required by the South African Patent Office.
The South African Patent Office does not conduct substantive examination. Within 9 months of filing, the South African patent application should be accepted. Publication / grant occurs 3 months thereafter. This makes South Africa the quickest and most affordable country in which to obtain a registered national phase patent.
GlobalIPCo Patent Management System
The GlobalIPCo system is more than just a filing system. GlobalIPCo has also developed a comprehensive South African patent, trademark and design management system that automates: filing; prosecution; acceptance; publication; grant; and courier of registration certificates. It is this intellectual property management system that enables GlobalIPCo to offer South African patent, trademark and design filings at low rates.
Join the GlobalIPCo Network
Contact GlobalIPCo and join their network of international patent firms. GlobalIPCo Network members qualify for significant benefits. They are also considered as potential filing agents when GlobalIPCo extends its PCT national phase online filing system to other countries.