How to patent an idea in South Africa
To patent an idea in South Africa is surprisingly affordable and quick.
Our charge to prepare a provisional patent application; draft the patent drawings using your 3D CAD model; arrange the patent application forms; and file your provisional patent application at the South African patent office is R19,950 (exclusive of VAT). Should you wish us to conduct a patent search before commencing with the provisional patent, our charge for doing so is R9,950.
The process generally takes 2 weeks. During this period we will arrange to discuss your invention (either in person or by phone / skype), we then prepare a draft provisional patent specification and drawings (using your 3D CAD model) for your approval, and send you a patent form P3 for signature and return to us via courier.
See our article summarising patent costs.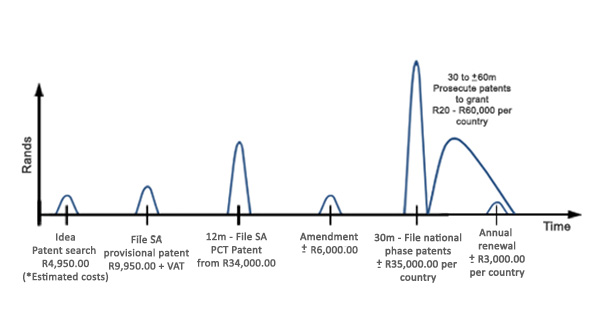 (*Estimated costs)
After filing your provisional patent application, you can freely disclose your idea to anyone – start discussions with manufacturers, speak to potential funders, conduct market research, and sell some prototypes.
Thereafter, we will send you regular reminders to file a complete or international patent application by the 12 month deadline.
Don't be intimidated by the patent process. Let us be your guide. See feedback from our clients in Johannesburg, Cape Town, Durban and Port Elizabeth.