Restaurant patent
These days, restaurants must do something different to attract customers. Just being an "Italian restaurant" with the "best, authentic Italian pizzas" doesn't cut it. Restaurants must do more. They must intrigue customers to dine. But lure them with what? How about Patents?
"Try our Pizza with Patent Pending thin-crisp base"
"Taste our Patent Pending truffle-infused gnocchi"
"Enjoy our Patent Pending aromatic garlic bread"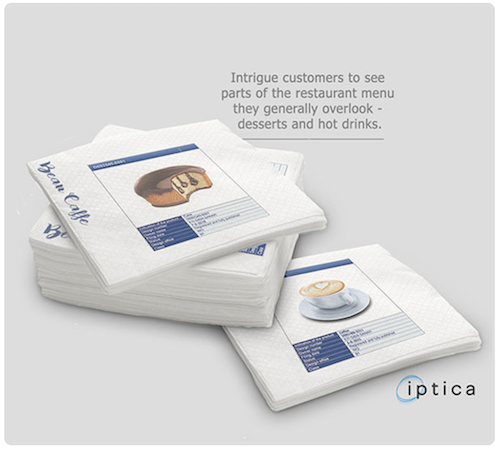 To get a Patent Pending Number for each of these menu items is easy. And, I for one would be curious to try them – they're clearly "new" and "innovative".
Not every kitchen can employ Heston Blumenthal, but every kitchen can deliver a Patent Pending dish.
Imagine a "Tea with Patent Pending ginger infusion". I'm sure that would sell better than a Ginger tea.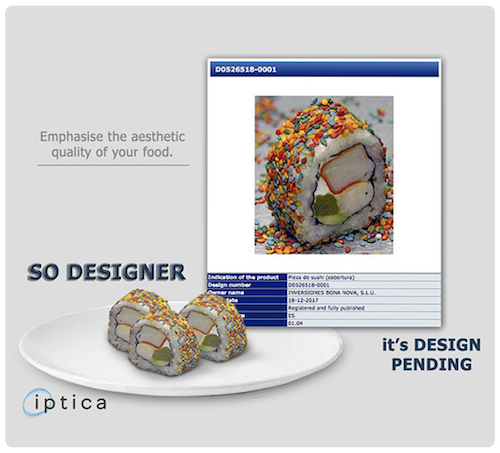 What can a restaurant patent?
Sure, to get a Patent Pending Number, you food product must include something new, but this could be:
a new composition of known ingredients;
a novel mix of ingredients; or
a unique preparation or cooking method.
For example:
US2349582 patented toasting Melba toast one side at a time: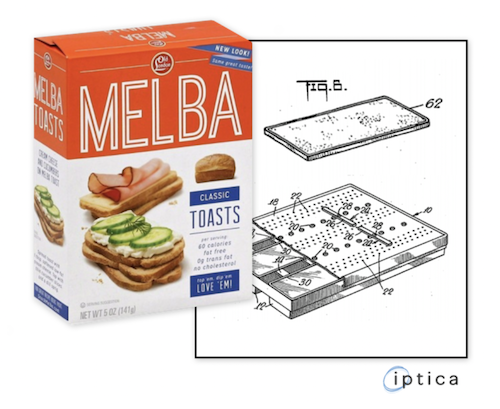 US3537863 patented making garlic bread using dehydrated garlic chips: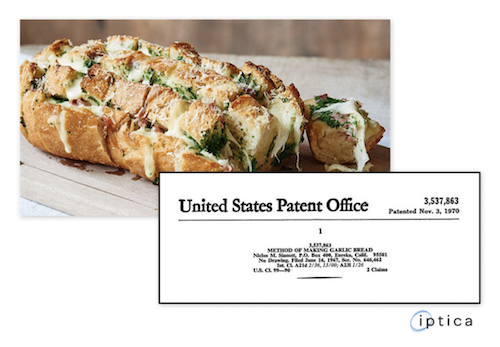 US2046118 patented tenderising steak by scoring opposite sides with transverse series of parallel cuts that extend more than half-way through the steak: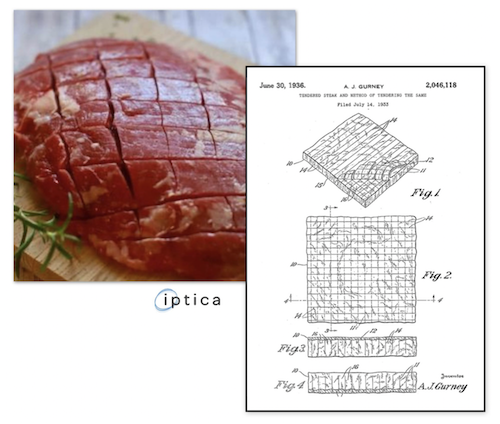 US1847223 patented coating a meat loaf with cheese, covering the coated meat loaf with tin foil and heating: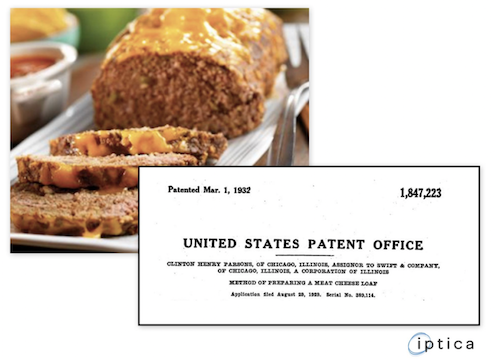 US3593370 patented a method of cutting a tuna:
And, US3197311 even patented the ratio of tomatoes, cucumbers, parsley and salt in a salad: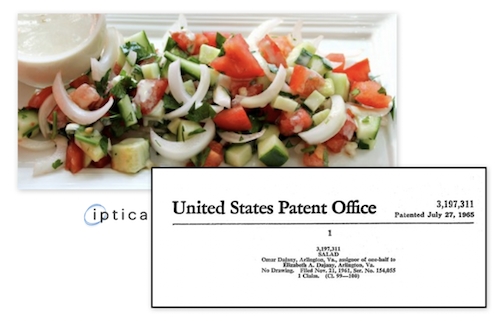 The bottom line, is that there's always something you can add for which you can get a Patent Pending Number. The next step is to describe it in a short document (use our free patent template) and upload it to an online Patent Pending Number filing system. To file the Patent Pending application costs only $199, and within a day you will be able to market your food "Patent Pending" worldwide for 12 months.
Be the most innovative restaurant in town.
What can't a restaurant patent? And, other options …
You cannot patent: a "restaurant concept" (e.g. that your restaurant is the only African-Asian fusion restaurant); or that you are opening a fried chicken take-away restaurant in a select place. But, you can design register the "look" of your restaurant / its interior – McDonald's and Burger King both do this. In addition, you can trademark register the name of your restaurant to prevent others from using a confusingly similar name.