Patenting a new use for an existing product
You cannot patent:
An [existing product] for [doing something new]
The reason is that product patents focus on "new features" you are adding. And, nothing after "for" is introducing a new feature – it is introducing a new application / use. The simple rule when considering whether your product is "new" (and, therefore, patentable) is to ignore everything after "for". Doing this, leaves us with:
An [existing product]
… nothing "new" there.
It also does not matter what you call the [existing product]. For instance, if you are partial to using a colander as a hat due to it being able to provide protection, while offering a high degree of breathability, merely calling the product a "hat" is not adding a new feature – a rose by any other name …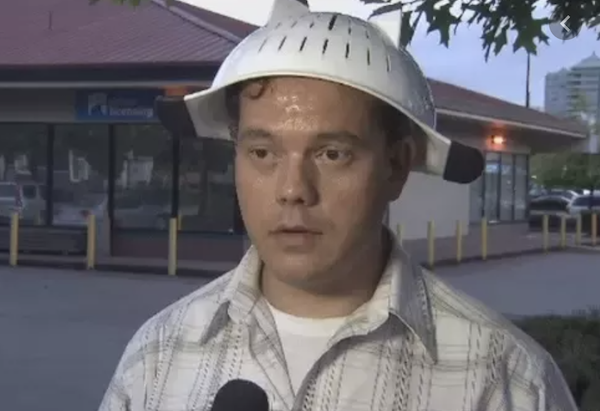 Instead, focus on what should be "added" to the existing product to make it better-suited to its "new use". For instance, consider adding:
"cushioning on the radially inner rim" to increase comfort; or
"a strap" to act as a securing chin-strap.
Avoid the temptation to claim the absence of the colander handles – "removing a feature" is the opposite of "adding a new feature". To be a valid patent, you must be "adding" a new and inventive feature.
In the end, consider patenting the following description:
"A hat including:

a substantially cone or dome-shaped perforated sheet; and

at least one cushioning element secured at or near the rim of the sheet, and extending radially inwards from the rim.

The hat could further include a strap that spans substantially diametrically across the rim of the sheet."
Now, you're starting to arrive at something potentially patentable. No matter what you do, you will never be able prevent others from taking an existing product and applying it (unchanged) to your new use. You can only hope to prevent others from adding your new features to the existing product, to make it better suited to your new use.
Also see the example of Drummond-Hay's miner's boot.
For further tips on how to draft a patent, see our Patent Template.