GlobalIPCo makes the secret of Chinese IP growth available to Western IP firms
GlobalIPCo has facilitated China's exceptional growth in filings over the past few years. The Chinese "secret" is simple:
Automate and SIGNIFICANTLY Reduce Pricing
By doggedly applying this approach, China has expanded the demand for IP filings across a much broader sector of the market. Whereas, Western IP firms focus on competing for a slice of the existing market share, Chinese IP firms focus primarily on growing the market.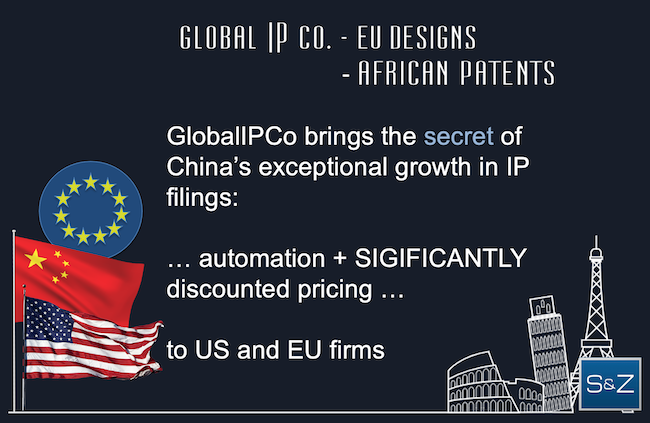 GlobalIPCo now makes the same automation and low pricing available to Western IP firms to enable EU and US firms to grow their local markets.
For example, Western IP firms historically paid +$4,500 to obtain and maintain South African patents for 20 years, attracting less than 2% of PCT applicants. By reducing the lifetime cost (inclusive of 20 years of renewals) of a South African patent to $881.50*, Chinese IP firms increased the total number of South African patent filings by 73% in 2 years! … simply by making South African patents attractive to a larger percentage of PCT applicants.
[* further discounts available to IP firms]
Western IP firms can now adopt the same growth model by registering with GlobalIPCo – an automated platform that extends the same heavily discounted rates negotiated on the back of high Chinese volumes to all Western IP firms (irrespective of volume).
Join the +100 Chinese firms that have registered with GlobalIPCo:
obligation-free registration;
IP firms receive a discount code that significantly discounts the published pricing;
no license / subscription fee; and
only pay for filings, publications or courier instructed.